LibrePlanet 2020, online mode

This year, as since 2006, during the month of March, one of the most advanced technology conferences in the discussion of ethical issues and the evolution of digital rights promoted by the FSF was scheduled, the LibrePlanet conference.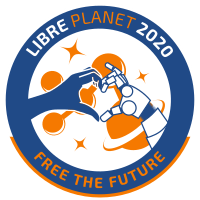 However, this year 2020 has been affected internationally by the most recent Coronavirus epidemic, COVID-19, which has recently been declared a Pandemic by the WHO.
Being the United States of America one of the most affected countries in the American continent due to its high mobility and population density, this has caused the sanitary protocols for a stage of Community Transmission known as Phase 2, beginning to be applied in certain states of that nation.
This has caused a great impact around the world, and in this case LibrePlanet 2020 was no exception, on March 9 the FSF announced that due to sanitary measures in Massachusetts, the US state hosting the conference, the presential component of the meeting would be removed, however the meeting would take a new twist to be conducted virtually via online streaming.
Even when these changes are unfortunate, we consider that it shows great conviction on the part of the FSF and the LibrePlanet chapter to adapt to the new reality and challenges that this pandemic will present the rest of 2020.
To all interested, we invite you to review the article:
---
Everything you need to know about LibrePlanet 2020,
now fully online!
by Zoe Kooyman
---
We hope that the event in this new format is a success and that it allows a global community to continue supporting its commitment to the freedom of software and cyberspace despite the different adversities and challenges that the future presents.
From Software IT & Networks Ltd we invite you to stay safe, informed, attentive to the recommendations of health authorities and fight the virus of misinformation and fear.
With the certainty that from cyberspace we will continue to provide quality care and services.